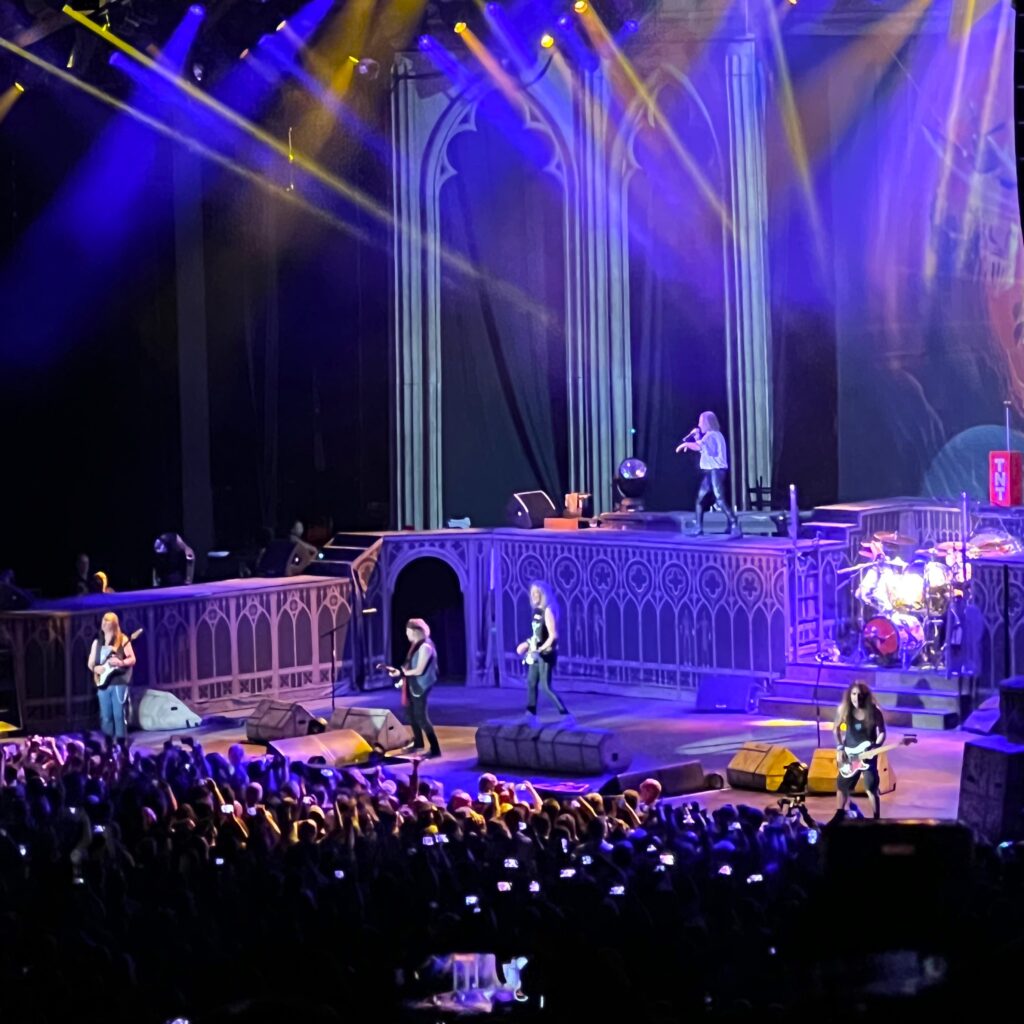 Just six months after our Judas Priest concert, Omri and I found a chance to see Iron Maiden in Concord, Northern CA, on Tuesday evening, September 27, 2022. This was a date on Iron Maiden's "Legacy of the Beast" world tour. I didn't know this, but "Legacy of the Beast" was a successful video game that the band launched last decade. The tour was originally scheduled for 2019 and was then postponed for years due to COVID. While waiting out the pandemic, Iron Maiden recorded and released its 17th studio album, Senjutsu.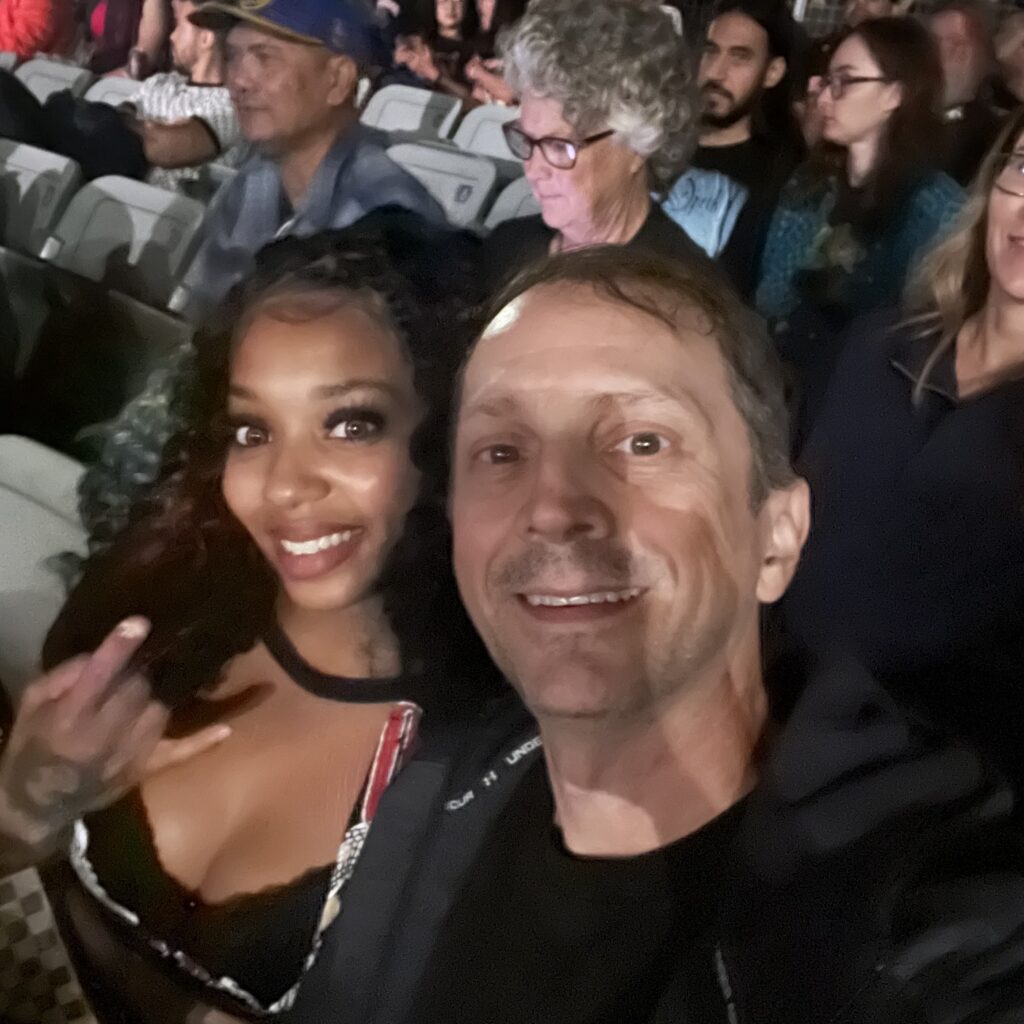 Iron Maiden has been one of my favorite bands since I fell in love with Piece of Mind in 1990. I'd seen them live at least twice before: The 1992 Fear of the Dark tour (before Omri was born!) and the 2005 Ozzfest (the San Bernardino performance with the now-infamous tiff between Bruce Dickinson and the Osbournes!).
It was a different concert experience this decade. I was impressed by numerous themes this time, not least of which was their longevity and stability. When I first saw Iron Maiden live, I never would have guessed that I'd be seeing the same five guys (reunited with Adrian Smith) 30 years later! Despite that, the band is still living in the present and reinventing itself. And the stage spectacle of an Iron Maiden concert has gotten absolutely colossal.
The highwater mark of Iron Maiden's career was the first trilogy of albums with Bruce Dickinson: Number of the Beast (1982), Piece of Mind ('83), and Powerslave ('84). When I saw them in decades past, they stuck to this canon for the most part. On this tour date, they were determined not to be a nostalgia act. They came out of the gate with three songs from their new album! I have now learned that these three tracks were Senjutsu, Stratego, and The Writing on the Wall. I think that this was a very gutsy move. I'm sure that most people in attendance had never heard these songs nor were particularly interested in hearing new material. By playing three new songs in a row, the band sent a message that they still take themselves seriously as a creative force, and they demanded us to give "new Maiden" a chance.
I believe it paid off. These songs were gripping and presented extremely well. The set opened with a drum set flashing like lightning, and then the band played in a blue-tinted Japanese village with a Samurai Eddie. The Writing on the Wall has an incredible animated video that would have fit perfectly into the Heavy Metal movie, with phantom motorcycle gangs and Eddie wreaking mayhem. This album's plodding tempos and dark atmosphere remind me of The Chemical Wedding, a Bruce Dickinson solo album from 1998 that features Adrian Smith on guitar. I surmised (correctly, as it turns out) that Dickinson and Smith did a lot of the songwriting on this album. By the end of the third song, I was surprised by the concert's direction but convinced that the band is still an important creative force.
Though I got some good photos from this concert, my video footage isn't very impressive. I ran into some copyright notices while trying to post videos as well. I will link to pre-existing videos on YouTube.
Then they started to dip into their hit list. By the time the full set was over, about half of their selections were drawn from the three bestselling albums mentioned above. There were a few more post-1990 selections, including two songs from the '90s when Bruce Dickinson and Adrian Smith had taken a hiatus! Sign of the Cross and The Clansman were originally sung by Blaze Bayley. These songs were new to my ear, and very unexpected choices, but I especially found Sign of the Cross to be a strong track.
Everything about the concert was HUGE! I don't remember such theatric spectacle in decades past. Two giant Eddies came out to wield swords. The set changed from the Japanese village to a gothic cathedral for Revelation, and then we got a fiery hellscape for songs like Sign of the Cross and Number of the Beast. When they played their eponymous song, the inflatable Eddie-monster head behind them was the size of a hot air balloon craft. For their final encore, Aces High, a half-size WWII fighter jet was suspended over the stage. Bruce Dickinson made a few wardrobe changes to suit the songs. I didn't remember earlier Iron Maiden concerts being so extravagant with their elaborate sets, enormous props, and pyrotechnics. I think that they have been continuously developing their stagecraft year after year, to the point that their live shows are now in the same league as Kiss, Pink Floyd, and The Rolling Stones.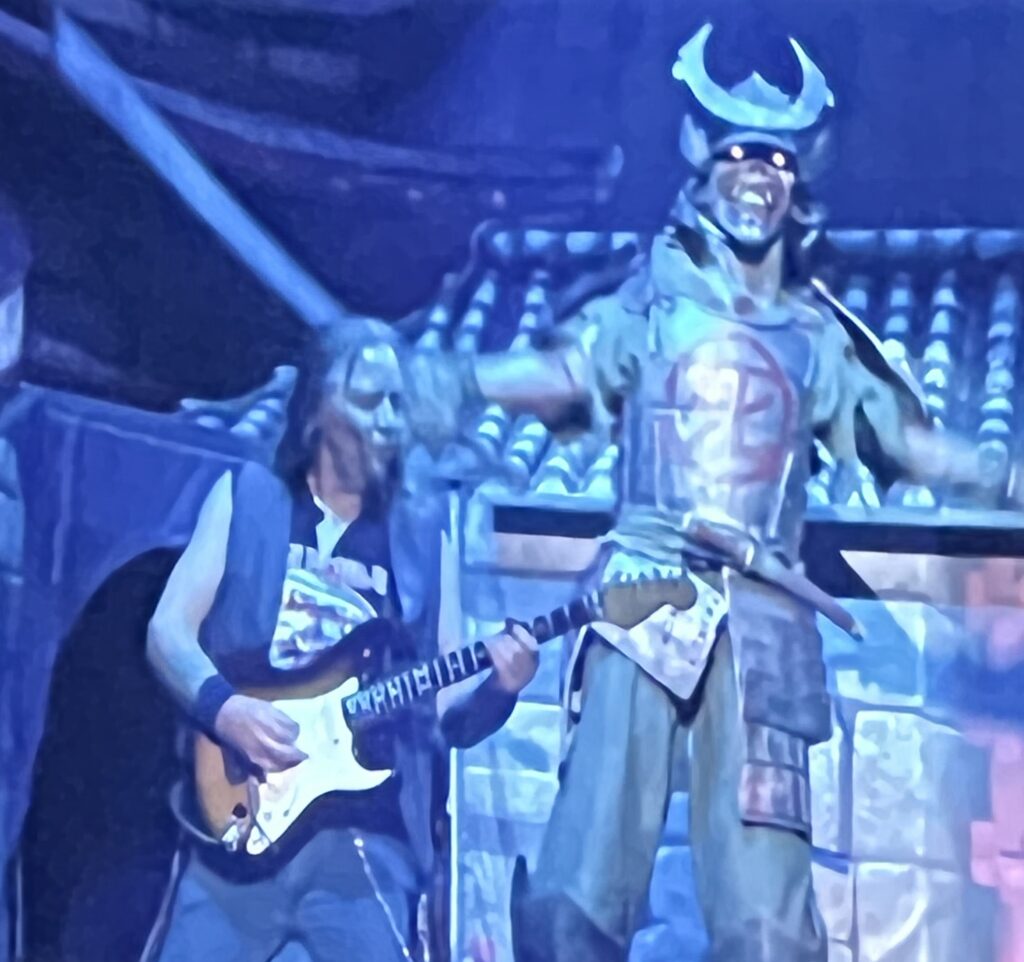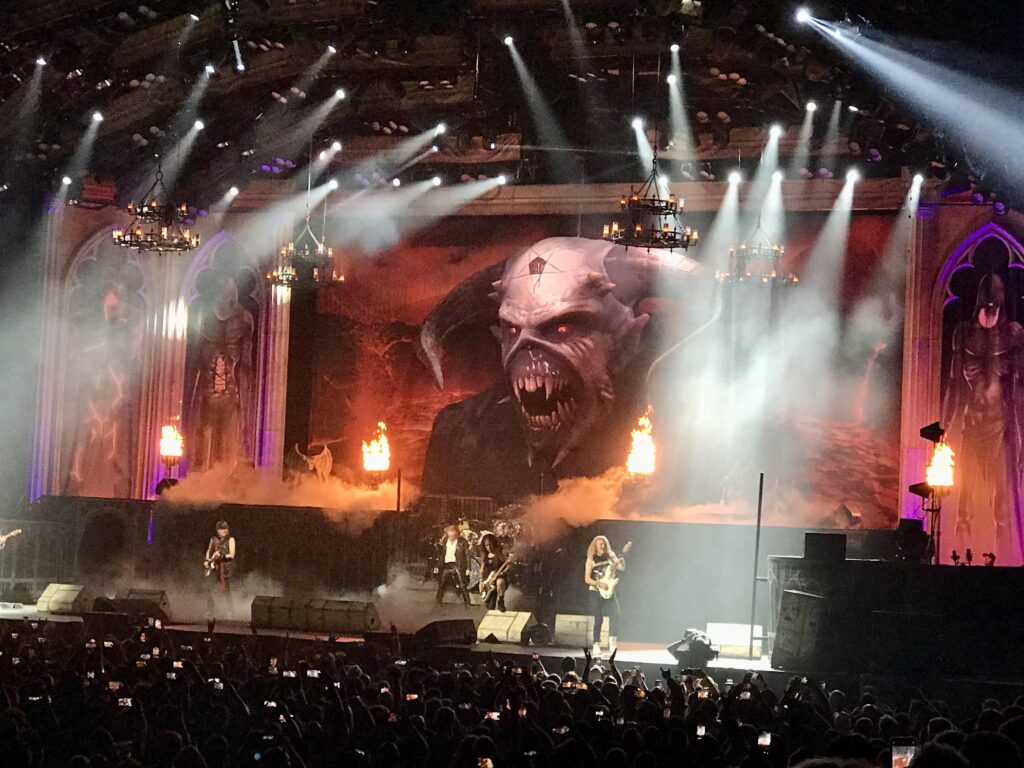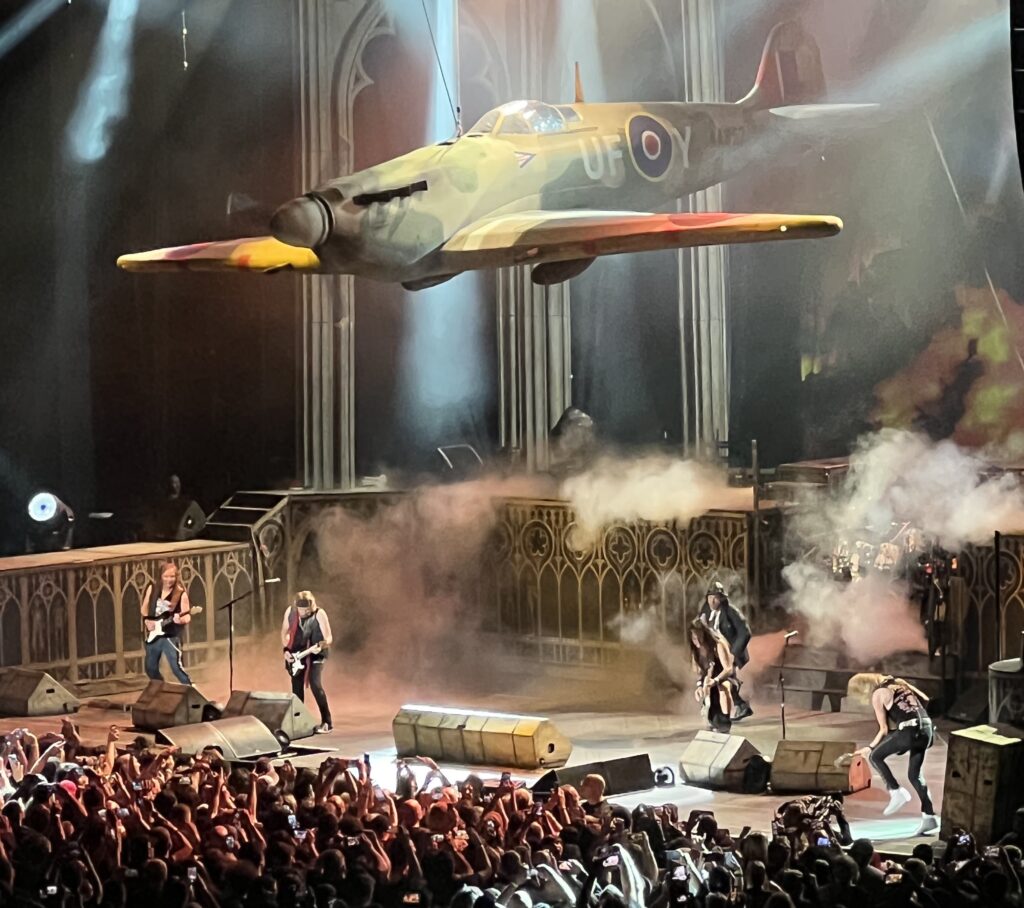 The musicians are all still performing at their peak. Dickinson can't quite reach all the glory notes that he hit in his youth, which is understandable after a bout with throat cancer. But his voice is still as strong as ever in his freakish G-to-high-C tessitura.
The only thing that an Iron Maiden fan can "complain" about is that their repertoire is now far too lengthy for one concert. I would have liked to hear Dance of Death, Phantom of the Opera, Mother Russia, the list goes on. They are not currently performing any songs from Somewhere in Time or Seventh Son of a Seventh Son, their first two synth-heavy albums. I have long wondered why Harris chooses to keep three guitarists in the band instead of swapping one of them out for a keyboardist.
Interestingly, as I write this, I see that their next planned tour, the Future Past Tour of 2023 – '24, will "revisit Somewhere In Time", which is probably my favorite Iron Maiden album of them all. Maybe I'll see you there next year!