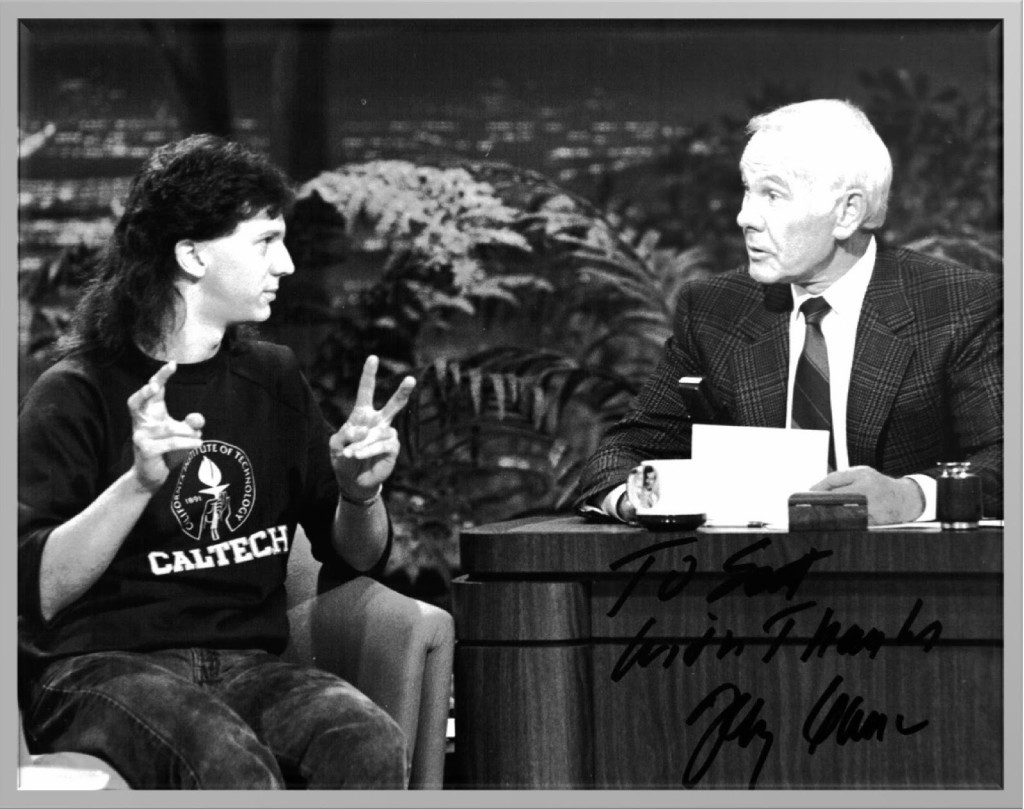 Alphabetizing with Walter Cronkite, 3/11/1991
Alphabetizing on CBC / NPR Radio, 1992
Ana the Alphabetizer, 3/15/2019
Introduction
I have the extremely rare and useless ability to alphabetize the letters within each word and then speak the alphagrams at conversational speed. This party trick does not make me rich, famous, or brilliant, but it has been good fun over the years. As an 18-year-old college freshman, I even got to perform it with Johnny Carson on The Tonight Show. That once-in-a-lifetime occasion came the day before Thanksgiving, November 22, 1989. 11/22 has become a minor personal holiday for myself. I sometimes use that date to make updates on social media. Today, on the 30th anniversary, I present my entire updated YouTube playlist, which includes never-before-seen footage — some new and some newly discovered!
The Tonight Show, 11/22/1989
For starters, I have replaced my previous Tonight Show video footage — which literally was "footage" from Mom and Dad's VCR — with a clip licensed directly from Carson Entertainment Group's digital archives. I have also spliced it into two new formats.
Tonight Show Highlights
Here is my new "Highlights" version of the Tonight Show appearance. This 3-minute clip is limited to my actual onstage alphabetizing and the minimal necessary setup.
Tonight Show Full Episode
This 7-minute clip covers my full Tonight Show segment, including all banter and offstage mentions.
Alphabetizing with Walter Cronkite, 3/11/1991
This video isn't new, but I include it here for the sake of completion. The Tonight Show appearance brought me some recognition within the Caltech community. I was invited to perform with MC Walter Cronkite at Caltech's official Centennial Celebration in 1991.
Alphabetizing on CBC / NPR Radio, 1992
In early 1992, Jay Ingram of CBC interviewed me for a CBC / NPR radio series called "Cranial Pursuits." The interview aired that July 12 as part of the "Autistic Savants" episode. I couldn't locate this interview when I was preparing my Tonight Show Silver Anniversary blog post. In the intervening five years, my detective work has turned up a copy! CBC sent me the audio file, and I put together this visual presentation.
Ana the Alphabetizer, 3/15/2019
After I posted my original Tonight Show appearance to YouTube, other alphabetizers started contacting me at the rate of about one per year. I arranged to meet one of them, Ana Arteaga-Biggs. I specifically met Ana for numerous reasons (not just because she's beautiful!) First, she happens to live in southern California, just two counties away from me. On top of that, Ana is the only other alphabetizer I've ever spoken to who pronounces the alphagrams. Everyone else spells them letter by letter. Now this I had to see! I drove to San Diego to meet Ana on 3/15/19. 1It was the thick of California's poppy season. Traffic was a nightmare, but I got some great pictures that day too! As an added bonus, we got a third alphabetizer, Sheena Sallee, on speakerphone with us for a few minutes. Ana and her husband and I chatted for the better part of an hour. I tried convincing them to name their first child "Abby", but they already had a name picked out. (Maybe the next one, guys, please?!)
Ana and Me – Highlights
This compilation singles out the moments that Ana and / or I spent alphabetizing.
Ana and Me – Full Conversation
Ana and I actually spent most of our time "talking shop". We were curious to compare our formation and development of this skill, our pronunciations, mental processes, etc. Ultimately, we keep arriving at the same frustrating conclusion: our ability is too subconscious to describe! But for those of you who may have a deeper interest in our psychology, there is plenty of interesting material (including all the alphabetizing) in this half-hour playlist. You can click here to learn more about what I called Morrowisms.